BEGINNINGS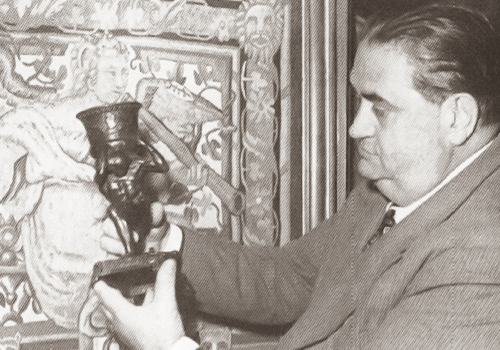 In 1953, in a historical context marked by strong economic and creative development such as that of the 1950s, Luigi Bellini had the enlightened intuition of gathering the best of Italian antiques in Florence.
Six years later (1959), his sons Mario and Giuseppe, assisted by the members of the Associazione Antiquari d'Italia (specially incorporated during the same year), gave birth to the most important Italian antiquarian event and one of the most significant in the world. It saw the involvement not only of Italian antique dealers, but also of an elite echelon of foreigners, who perceived in Florence the sense and image of the humanist culture, understood as a refined and passionate renewal of ethical, aesthetic and spiritual values.
The historic Palazzo Strozzi hosted the Fair, a building steeped in history, renowned worldwide, and an excellent example of the Italian Renaissance, which became an icon and international reverberation of the same event.
Chairman of the Executive Committee at the first edition of the 1959 exhibition was Giacomo Devoto, glottologist, philologist and literary critic, who emphasised the dual aspects that the exhibition would have highlighted: the first, dissemination and awareness of ancient Italian art, understood not only as painting and sculpture, but also as furniture and furnishings; and the second, purely commercial, which saw the antiques segment as an integral part of the country's economic development between the fifties and seventies.
The Executive Committee included much loved Piero Bargellini, the man who during the most disastrous days of the 1966 Florence flood demonstrated to the citizens that he was a figure of the highest ethical and moral profile, in addition to one of the most authoritative and refined exponents of the Italian, but above all foreign, antiques market.
The success was immediate and overwhelming, so much so that police intervention was necessary to discipline the enthusiastic crowd, which during that month of opening to the public had taken the Fair by storm. An exceptional visitor, who arrived in Florence in an unofficial capacity the day before the event closed, was the President of the Italian Republic, Giovanni Gronchi.
This all took place before the Autostrada del Sole (motorway between Milan and Naples) was built, when the transportation of artworks was still inexistent and instead simply relied on furniture removal companies, and when the very concept of communication was entrusted to refined articles published in the legendary cultural section on the 'third pages' of the main newspapers.