THE TWENTIETH CENTURY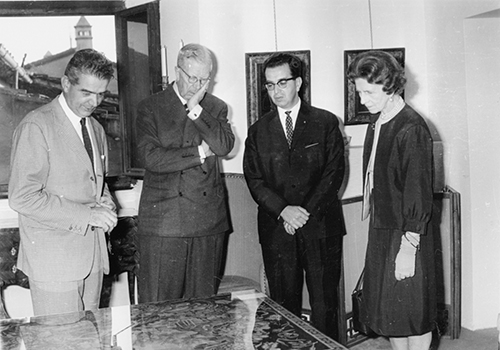 In 1961, the exhibition was inaugurated by the then mayor Giorgio La Pira and was animated by the vivacious and spontaneous participation of the President of the Council of Ministers Amintore Fanfani. The chairmanship of the Executive Committee passed over to Prince Giovanni Ginori Conti.
This edition was also a showcase of the world of entertainment and cinema, with appearances by such celebrities as the bubbly Josephine Baker, the divine Greta Garbo, explosive Sofia Loren, American director and actor John Huston, proud Silvana Mangano accompanied by Mauro Bolognini, and graceful Paulette Goddard with Erich Maria Remarque, testimonies of that sophisticated world of jet-setters.
The most significant fact of the Mostra dell'Antiquariato di Firenze was that it substantially changed the perception of the antiquarian from a mere discoverer of antiques to a refined connoisseur of the forms and colours that art had assumed over time.
A generation of young art historians grew up during those years, devoted to the systematic and widespread study of the various sectors of antiques aimed at historical and documentary enhancement, and the prevailing taste was strictly oriented towards the late Renaissance, the Venetian eighteenth century and French furnishings of the eighteenth century.
The success of the event spread to the entire urban fabric, with historical re-enactments that attracted a crowd of onlookers, as well as worldly events with a sumptuous character. The exposure over the years became a must, no longer targeting merely a small circle of experts and collectors, but also a nascent and prosperous bourgeoisie that had established itself with the economic boom.
The flood of November 4, 1966 was an unparalleled catastrophe for the Florentine antique dealers, but despite this, the following year the exhibition opened again regularly, thanks to the effort and work of the entire city under the guidance of Mayor Piero Bargellini.
From 1959 to 1975, this event was hosted in Palazzo Strozzi in the historic centre of Florence. In 1977 the Biennale was forced to move to Palazzo Giuntini, due to the inaccessibility of the previous location, where it returned two years later and remained until 1993. Meanwhile, in 1986, Guido Bartolozzi took over from the Bellini brothers as General Secretary and the Fair took on the permanent name of Biennale Mostra Mercato Internazionale dell'Antiquariato. In 1995, the Biennale moved to Palazzo degli Affari designed by Pier Luigi Spadolini, before transferring to Palazzo Corsini sull'Arno in 1997, this time permanently.