THE TWENTY-FIRST CENTURY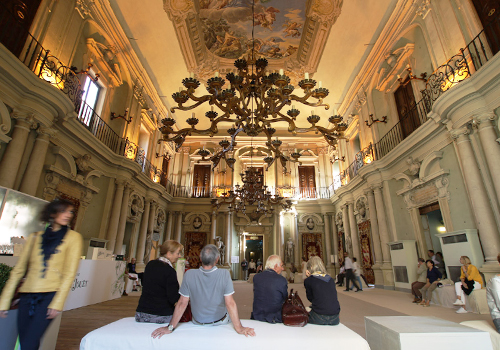 In 2011, Giovanni Pratesi was elected General Secretary, and driven by a great desire for renewal he called on Pier Luigi Pizzi, undisputed director, set designer and costume designer, to create a mise-en-scène aimed at enhancing the exhibition spaces.
Another element that Pratesi tackled with resolute determination already during the first year of his tenure was the possibility for antiquarians and collectors to liberate the works of art from any legislative constraints. Thanks also to the collaboration of the then Superintendent Antonio Paolucci, the conditions were created for equipping each work, even before the start of the event, with a certificate of free circulation, issued by the Florence Export Office and the Ministry and Cultural Activities. This was an exclusive feature of the Biennale that marked an attitude of mutual respect and shared will in the promotion and conservation of the works of art.
Another element emphasising the profitable relationship between the institutions and the antiquarian world was the decision to confer the chairmanship of the Scientific Committee on the Superintendent of the Polo Museale Fiorentino, as well as the formation of a high-profile vetting conducted by renowned art historians, called upon to evaluate the golden rules that have always governed the antiques market: certainty of quality, origin, state of preservation and – above all - the authenticity of the artworks, a prime value for a market targeting excellence. Indisputable requirements that determine a natural selection of exhibitors, able to fully satisfy the pre-eminence of any art object presented. Lastly, the Carabinieri Department for the Supervision of the Artistic Heritage guaranteed the correct titles of origin.
Today the Biennale is considered the most important Fair the world for ancient Italian art, and every two years it brings to Florence the crème de la crème of national and international antiques by inviting a select group of antique dealers capable of proposing an important and very varied choice of works, guaranteed by an authoritative vetting.
A significant sequence of official appointments accompanies the exhibition. The Gala Dinner is the event most looked forward to by guests from numerous EU countries and the USA as it offers the chance to visit the exhibition in an absolute preview and immediately afterwards, to enjoy an elegant and refined dinner topped off by a fireworks display.
A customary feature of the event, small but significant temporary exhibitions of an informative nature are held inside Palazzo Corsini, and in recent years they have exhibited valuable and evocative objects from public and private collections, such as the prizes awarded for the most important works presented by the exhibitors and to personalities acclaimed for their high cultural value.