FLORENCE ART WEEK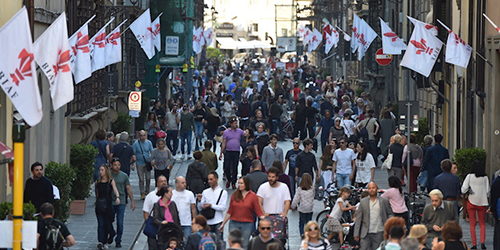 Events (21-29 September 2019)

F.LLI Piccini – Ponte Vecchio, 21-23 R. VIP lounge with finger food and sparkling wine tasting, reserved for holders of the BIAF VIP card, at the historic Fratelli Piccini luxury jewellery store, winners of such prestigious awards as the Venice Biennale and the International Diamond Award. At the heart of the Ponte Vecchio, guests will have the rare opportunity to visit the store's museum, with its unique pieces of jewellery and silverware that form part of the Family Collection, the terrace overlooking the Arno river with breathtaking views over Florence, and the old jewellery workshop that was the inspiration for Guy Trebay's piece for the New York Times, "The Last Jeweler on the Ponte Vecchio". A unique and special location, a point of reference in Florence since 1903. Every day from 12.30pm to 6.30pm.
On 21 September, for the occasion of the first Florence Art Week, "Golden Aperitivo" from 7.00pm to 9.00.pm.
Galleria Bacarelli – Galleria Continua – Galleria Botticelli propose "INCONTRI", an exhibition of ancient, modern and contemporary works. From 21 September to 30 November at the Galleria Bacarelli Antichità, Via dei Fossi 45r - Florence
Frascione Arte at Via Maggio n. 5 offers the exhibition "RAM Tra Novecento e Metafisica. La natura ricreata", curated by Susanna Ragionieri, from 19 September to 7 December. A multifaceted artist working as a painter, sculptor, illustrator, graphic designer and engraver, with an interest in the worlds of theatre, fashion and architecture, RAM, acronym for Roger Alfred Michahelles (Florence 1898 – 1976), is the full embodiment of the cosmopolitan intellectual, "whose art", as Raffaello Franchi wrote in 1926, "is positive and precise, even while changing inspiration and form". The exhibition examines for the first time the artist's entire arc of activity, with a selection of paintings, sculptures and advertising sketches that range from the early twenties to the late sixties.
PALAZZO ANTINORI, Piazza degli Antinori 3, the exhibition "La Firenze di Giovanni e Telemaco Signorini" will exhibit both celebrated masterpieces and canvases on show to the public here for the first time.
THE ROBERTO CASAMONTI COLLECTION, Piazza Santa Trinita 1, offers an exhibition of works from the second half of the twentieth century, by Tony Cragg, Pistoletto, Boetti and others – around ninety masterpieces from the sixties to the new millenium.
THE FEMALE GENDER IN TWENTIETH CENTURY ITALIAN ART, Curated by Monica Cardarelli is the third exhibition that Galleria del Laocoonte, based in Rome and London, inaugurates in Florence. This year, as two years ago, the headquarters will be the historic Galleria Marletta, Piazza San Felice, 10. The exhibition comprises around one hundred works, with techniques ranging between paintings, drawings, pastels, bronzes, terracotta and ceramics, of Italian artists from the 20th Century, who represented as many female figures. Wives or lovers, virgins or prostitutes, holy mothers like the Madonna or man-eating she-devils. Chaste teenagers or mature Maddalene, but also goddesses, nymphs, legendary personifications of Spring or Italy, Junoesque and turreted.
AXA XL Art & Lifestyle e Art Defender, on 20 September at 5.00pm, offer a visit to the altarpiece by Bernardino Poccetti (Florence 1548-1612) (attr.) "Saint John preaching to the multitude". Seminario Arcivescovile Maggiore Fiorentino, Lungarno Soderini 9R.
5.00pm Welcome greeting: Alvise di Canossa, Art Defender President and Italo Carli, Managing Director of AXA Art Versicherung Ag, AXA XL, a division of AXA.
Seminary rector Don Gianluca Bitossi will welcome guests to the cloisters of the Seminary, usually closed to the public, while restorer Dr. Tessa Castellano will demonstrate the pioneering techniques used in the ongoing restoration of the work. It will be a chance to get close to a "secret Florence" and to appreciate in person the experience of promoting the little-known art housed in the Seminary cloisters. Followed by an aperitif.
The Seminary will be open especially for the occasion from 3.00pm. Booking through the BIAF concierge service is advised
Municipal Museums participating in Florence Art Week:
Palazzo Vecchio – Museo Novecento and Bardini Museum. Saturday 21 September, during museum opening hours, free entry for holders of the VIP Card
On 21 September 2019 the boutiques of Via Tornabuonia and the galleries of Via dei Fossi and Via Maggio offer holders of the VIP card a welcome cocktail
Participating:
Anne Fontaine, Via Tornabuoni n. 69/71
Armani, Via Tornabuoni n. 83 - From 7.00pm to 9.00pm a cocktail will be offered inside the boutique
Balenciaga, Piazza santa Trinita n. 1
Burberry, Via Tornabuoni n. 29R
Casadei, Via Tornabuoni n. 74R
Celine, Via Tornabuoni n. 24
Dolce & Gabana, Via Tornabuoni n. 18 - A master craftsman will be on hand to offer an exclusive service customising sneakers with hand-painting
F.lli Piccini, Ponte Vecchio n. 21/23R
Fani Gioielli, Via Tornabuoni n. 72R
Fendi, Via Tornabuoni n. 40R
Ferragamo, Via Tornabuoni 4R - Legacy meets Innovation
Gucci, Via Tornabuoni n. 73R
Hermes, Piazza Antinori 6R - in-boutique cocktails and entertainment. Entertainment by leather craftsmen on the maison's expertise.
Hogan, Via Tornabuoni n. 97R - 10% discount for holders of the BIAF card
Locman, Via Tornabuoni n. 76
Loro Piana, Via Tornabuoni n. 36 - Welcome drink
Lotti, Via Tornabuoni n. 59 - Cocktails and Gianfranco Lotti historical corner. In-boutique cocktails with a corner of bags from the Historical Archive of GIANFRANCO LOTTI, who is highly likely to be present
Max Mara, Via Tornabuoni n. 66/68/70
Obicà, Via Tornabuoni n. 16 - For the Florence International Biennial Antiques Fair, Obicà is proposing two special menus with a selection of dishes using the finest quality Italian ingredients. Fish or Meat Menu: Starter, First Course, Second Course, Dessert, Water, Wine and Coffee € 60.00 p.p.
Pomellato, Via Tornabuoni 89/91R - Invite their guests to immerse themselves in the classic atmosphere of the Milan atelier by offering an in-boutique cocktail. Discover the colours, shapes and elegance of the new collections, while a craftsman at work tells the secrets of the tradition of the art of jewellery-making and over 50 years of the history of the brand.
Procacci
Pucci, Via Tornabuoni, 20 - An exclusive event to present the reissue of its iconic Battistero scarf. For the Florence International Biennial Antiques Fair, Maison Emilio Pucci is proud to present the reissue of its iconic Battistero scarf dedicated to the city of Florence, designed in 1957 by Marquise Pucci. There will be a cocktail at the Via Tornabuoni boutique followed by an exclusive event at the Palazzo Pucci where it will be possible to purchase the limited edition Battistero scarf.
Saint Laurent, Via Tornabuoni n. 43/45
Tiffany, Via Tornabuoni n. 37 - In-boutique cocktails
Tod's, Via Tornabuoni n. 70R - Limited edition items and a craftsman in the boutique; Franciacorta for all guests. A capsule collection of our iconic moccasins, unique pairs for exclusive sale in our boutique for the Biennial. A craftsman will be present to customise our products.
Valentino, Via Tornabuoni n. 23R - From 7pm.00 to 9.00pm, cocktails
Versace, Via Tornabuoni n. 17
Zadig et Voltaire, Piazza santa Trinita n. 2R-3R - Champagne and macarons. Presentation of the new collection
Zegna, Via Tornabuoni n. 3 - Bespoke service. For Biennial visitors only, every order of a bespoke jacket, suit or outerwear will also come with a bespoke shirt. An expert will be on hand to take measurements
PARTICIPATING ART GALLERIES:
Via Maggio:
BOTTICELLI ANTICHITÀ, Via Maggio 29
FRASCIONE ARTE, Via Maggio 5/7
GALLERIA MARLETTA, Piazza S. Felice, 10r
SANDRO MORELLI, Via Maggio 59r
GIOVANNI PRATESI ANTIQUARIO, Via Maggio 13
TETTAMANTI ANTICHITÀ, Via Maggio 22r
TORNABUONI ARTE, Via Maggio, 40
ANTICHITA' DI VINCENZO FIORINI, Via Maggio, 9
GALLORI TURCHI 1942, Via Maggio, 12R-14R-19R-20R
DITTA G. TURCHI OGGETTI ANTICHI, Via Maggio 42R
CASA GUIDI, Piazza san Felice, 8
ANTICHITA' MESSERI, Via maggio, 28
STEFANI PAOLO ANTICHITA', Via Maggio, 8R
Via dei Fossi
ARCH. RICCARDO CHIAVACCI, Via dei Fossi, 10R
IL CANCELLO ANTIQUARIATO, Via dei Fossi 13R
PIERO FATTORINI ANTICHITA', Via dei Fossi 17R - Will be presenting rarities and curiosities from ancient China
GALLERIA PARRONCHI, Via dei Fossi 18R
ANTICHTIA' PISELLI BALSANO, Via dei Fossi 23R
VELONA ANTICHITA', Via dei Fossi 31R
GIANLUCA SALVATORI ANTICHITA', Via dei Fossi 31R

STUDIO DIMORE COLLECTION, Via dei Fossi 41R
ANTICHTA' BRUSCHI , Via dei Fossi 32R - Will be presenting an unseen surprise by late Mannerist G.B.Giustammiani
RICCARDO BACARELLI ANTIQUARIO, Via dei Fossi 45R - Will be presenting the exhibition "Incontri", displaying ancient, modern and contemporary works
LEONE CEI E FIGLI ANTICHITA', Via dei Fossi 47R – Will be presenting an exhibition of works by Carlo Cigoli 1883 - 1962, an artist at the court of Siam
ENRICO FRASCIONE, Via dei Fossi 61R